To find a way forward in sustainable shipping, Wallenius Marine has gone back to the ancient origins of the industry. With its Oceanbird project, the Swedish ro-ro operator is banking on wind propulsion as a way to a greener future for shipping.
"Wallenius has been concerned with environmental issues for many years, and this has guided us to our vision for truly sustainable shipping," says Per Tunell, the company's Chief Operating Officer. Kicked off in 2009, the goal of Oceanbird was to make the sustainable vision a reality. "We began to build a roadmap of what would need to happen, where and when in order for us to reach our vision," Tunell explains.
Matching environmental concerns with conviction
Wallenius' own preconditions for going forward with Oceanbird stipulated a 90 per cent reduction in emissions, economic feasibility and a 2021 order date, all of which were deemed within reach. "When we looked at cost together with existing and emerging technologies, we concluded that it would be possible to achieve an emission-free vessel within a reasonable time frame."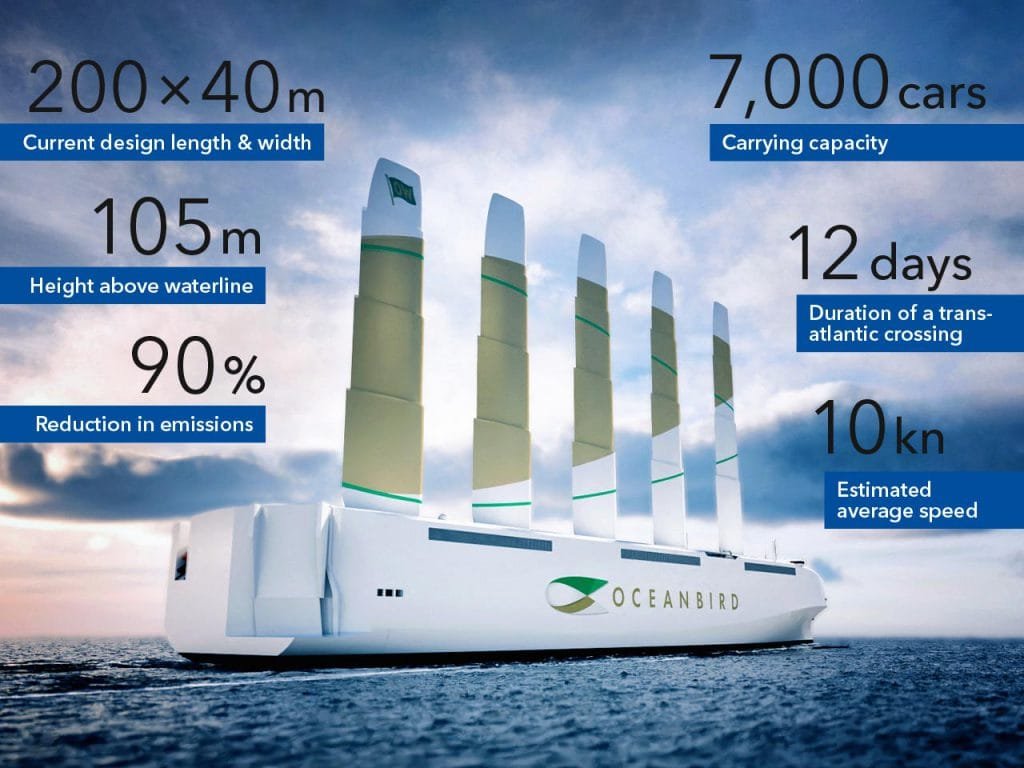 Oceanbird in numbers
Sailing towards emission-free propulsion
Oceanbird will measure 200 metres in length and 40 metres across, with a carrying capacity of up to 7,000 vehicles. Early investigations confirmed that solar power would not provide enough energy to cover more than on-board electrical systems, Tunell says. Wave energy, though prolific, proved difficult to exploit. "Wind energy is abundant, and also the easiest to harvest, so wind was chosen as the source of propulsion power."
To harness the power of the wind, the team looked at sails, Flettner rotors and kites, but to meet requirements of strength, reliability, safety and durability, rigid wings were found to be the most viable solution. "The technology has relatively limited application to date, but it's really not that far from being ready for commercial use. We also realized that we could use existing technology to build these wings," Tunell says.
Telescoping rigid wings
The design now incorporates five rigid wings with a total area of 7,500 square metres. The wings will stand 80 metres tall and be retractable to less than half that using telescopic construction. Tunell notes that Oceanbird will have engines on board in order to ensure safe passage and enable manoeuvring in harbours: "We are evaluating different fuel alternatives, but haven't made a decision yet. Our criteria include as small an environmental impact as possible, ready and reliable availability, commercial feasibility, and use of well-proven technology."
Teaming up to qualify technologies
"It quickly became clear that this would be a highly multidisciplinary project," Tunell reports. "We are talking to a lot of stakeholders, including shipowners, cargo owners and equipment manufacturers." Not least the logistics network will be a major part of the picture, he adds, in addition to regulatory and public acceptance.
Wallenius has teamed up with SSPA in Gothenburg and the Royal Institute of Technology (KTH) in Stockholm to explore and qualify the various technologies. The group received national funding from the Swedish Transport Administration to kick-start the research project in 2019. Much of that year was dedicated to building theoretical models and advanced simulation tools now being used to verify design changes. A revised concept was launched in September 2020, the third iteration in the design process.
"We have finalized a set of tests with SSPA, including wave tests. In fact, there were even some challenges in the testing itself, as this is a brand-new concept," Tunell relates. "Instead of creating artificial wind with fans mounted on the side, we mounted fans on the model to simulate wind forces on the rig. We also built a seven-metre model with students at KTH in Stockholm, starting with a single wing. They are now sailing the model with four wings in open water."
AiP a critical milestone for showstoppers
Tunell and his team are currently engaged with obtaining Approval in Principle (AiP) from DNV GL. "Constructing this kind of vessel is a unique undertaking, doing something that has never been done before, and obtaining class approval is important for building confidence in the concept," he says.
Hasso Hoffmeister, Senior Principal Engineer at DNV GL, concurs: "This is a full-on sailing ship, rather than wind-assisted, and no modern cargo ship has been built for pure sail power." AiP is a process designed for novel projects, he notes, used to identify possible showstoppers and stumbling blocks, a critical step on the way to realizing Oceanbird. He reports that the process is well underway, with a target completion date of early 2021.
Sailing expertise supports customer commitment
DNV GL has been working with modern sailing technologies for 25 years, Hoffmeister relates, culminating in their recently issued class rules for wind-assisted propulsion systems , or WAPS. "Now we can apply our expertise to this unique project. Wallenius is a major international ro-ro operator, and they believe in the viability of wind power. That they are committing to this project now is significant for the entire industry."
New technology a game changer for wind propulsion
"So much has changed with technology since we last looked at sail power for propulsion," Per Tunell reflects. "Automation, sensors, material technologies, route planning, weather forecasts, all of this together makes it possible to look at wind propulsion in a totally new light. It allows us to do things that we could not have done 15 years ago." As an example, Tunell points to the latest America's Cup racing boats that have achieved high performance using rigid wings: "Inspired by that development, we are now able to introduce this state-of-the-art technology into the commercial market."
Oceanbird will employ a high degree of automated sailing technology, but on-board crew will still be essential, Tunell confirms. "Our current skilled crews will be able to handle most of the sailing requirements. But as with any new technology, training in handling the new equipment will be very important."
Building the market for wind-powered transport
"Interest in the project has been fantastic. We have been approached by cargo owners who are eager to be the first to have their vehicles delivered by a wind-powered ship," Tunell reports. "Reduced speed is of course a factor, but it turns out speed is not the most important thing for them. Reliability is more critical. Schedule integrity must be upheld, and we will be able to deliver on that."
Tunell stresses that Wallenius is looking to create a market for wind-powered transport, not a monopoly. "We don't want to be the only ones offering this technology – quite the opposite. We hope others will see that wind propulsion is feasible and move forward with their own projects. To speed up the transition to sustainable shipping, we need as many stakeholders as possible to take action."
Sustainable shipping solutions gaining momentum
As the demand for sustainable shipping continues to grow, so does the acceptance for novel solutions, Tunell observes. "For many years we felt somewhat alone in our pursuit of sustainable solutions for shipping, but that has changed. Now we feel we have the wind at our backs."
He emphasizes the importance of learning by doing with Oceanbird. "We are in this to make it reality. We want people to see that shipping is truly on its way to sustainability. Our focus now is on achieving sufficient performance and building confidence. We want to get this ship on the water, and take it from there."
DNV GL info
2021-01-11